VISIT THE PRESENTATION CENTRE AND MODEL SUITE.
The last and most coveted final tower at Hillmont, in SXSW's master-planned community is now selling.
Take advantage of these incentives for a limited time.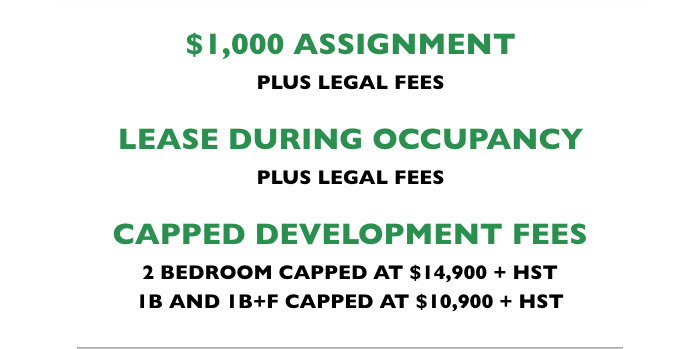 Poised on the edge of a pristine, forested ravine, Hillmont is surrounded by the bounties of nature, while offering an array of rich amenities at home and nearby.
Everything you could possibly desire is lavished upon you at Hillmont.
MEET THE TEAM
Inspired architecture by Quadrangle

A full-service architecture and interior design firm, Quadrangle designs the spaces where people live, work and play, with insights gained through listening, exploration, nuanced iteration and quality execution. 

Exceptional landscape architecture by Nak Design

NAK Design Strategies is an award-winning landscape architecture and urban design practice that creates unique and innovative solutions for vibrant public spaces, private oases, and community masterplans.
Easy Connections
For Vaughan residents, the new subway Line 1 extension has made life much easier, offering a faster and more efficient way to commute to downtown Toronto. From Vaughan Metropolitan Centre (VMC) Station, trains can whisk you all the way to Union Station in just 47 minutes.
And that's not all – the VMC station is an intermodal transit system. Underground walkways connect you in minutes to the SmartCentres Place bus terminal, where you can catch a Viva bus to many GTA points in all directions.
LIFE-ENHANCING AMENITIES
From a think space lounge to inspire your creativity to a fitness studio to help you keep in shape and thoughtfully designed social spaces where you can connect with friends and family, the amenities at Hillmont are designed to enhance your life. Every amenity displays a discrete melding of high-tech with design that evokes tranquillity and vitality. No details have been spared in Hillmont's meticulous approach to creating spaces that draw you in and transform your spirit.
PRESENTATION CENTRE AND MODEL SUITE
LOCATION
7082 Islington Ave
HOURS
Open by appointment ONLY!
©2021 Primont. All rights reserved. Specifications are subject to change without notice E. & O.E. Exclusive Listing Brokerage: Baker Real Estate Incorporated. Brokers Protected. *Parking included on select models. **The Purchaser will be responsible for legal fee of $1,500 plus $950 administration fee for the assignment. ***Limited Time Offer.